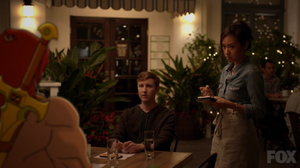 Nancy 
is the crush of 
Alan
 and is a waitress at a restaurant.
In "Return to Orange County", she is seen waitressing at the restaurant that Zorn and Alan eat at. She also drives past Alan's house, while Zorn is brutally murdering the death hawk.
She is portrayed by Ellen Wong.
Ad blocker interference detected!
Wikia is a free-to-use site that makes money from advertising. We have a modified experience for viewers using ad blockers

Wikia is not accessible if you've made further modifications. Remove the custom ad blocker rule(s) and the page will load as expected.